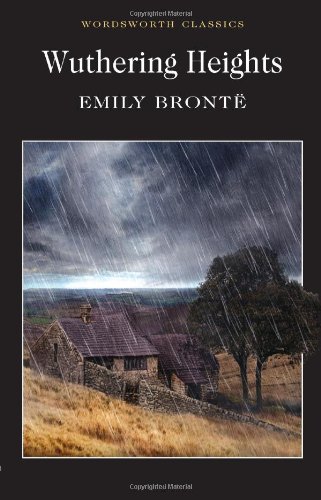 Title:

Wuthering Heights
Author

:

Emily Brontë
Publisher:

Wordsworth Classics
Release date:

1997 (first published 1847)
Pages:

245

*Catherine's face was just like the landscape - shadows and sunshine flitting over it in rapid succession; but the shadows rested longer, and the sunshine was more transient; and her poor little heart reproached itself for even that passing forgetfullness

of its care

.*
_________________________________
Set on the stormy moors of northern England, this classic novel is filled with the cruel and ecstatic love between the characters Heathcliff and Catherine. As they grow together as children and later as lovers, the conflicts of class and an all-consuming passion overwhelm the inhabitants of Wuthering Heights.
_________________________________
*Treachery and violence are a just return for treachery and violence

.*

One of the famous classics which I had never read, Wuthering Heights definitely lived up to my expectations. Set in rural England, it is a great saga recounting the story of two families whose fates irrevocably intertwine. Three generations live in their secluded world, ruled by hate and love, hope and vengeance.
First published in 1847, Wuthering Heights was considered shocking and only received little attention. In order to enjoy it for what it is, the reader must keep in mind the historical context – the importance of religion and of class in England – in which it was published and the personal background of the author; for Emily Brontë, like her characters, lived a solitary life in Yorkshire. Her writing style and the vocabulary she uses might seem old-fashioned and discourage those who are not used to them, but there are several editions with many useful explanatory notes to facilitate readers' understanding. The variety of the English used by the characters adds to the realism of the story, and Joseph's impression of the Yorkshire accent is exceptional – if sometimes a little difficult to understand.
I found the first few chapters difficult to understand, mostly because I was confused about who was who. Scenes from two different periods were described within a few pages and several characters bear the same name. As the plot develops, everything becomes much clearer and it is then possible to enjoy the story and the two different narrators. The descriptions are very important; very precise, full of details and vivid, they build the gothic atmosphere which is so specific to the book. Whuthering Heights seems to be constantly shrouded in darkness, home to heartless protagonists and haunted by the ghosts of its past. I sometimes felt the setting was another character, echoing the actions of the main protagonists.
Most characters seem rather violent, monstrous even. The main protagonists cannot help being cruel and we constantly wonder about their motives. Are they driven by their desire of revenge, by love, or by personal interest? Are they trying to be good, but external circumstances shape them, or were they born this way? Their universe is limited to two houses, Wuthering Heights and Thrushcross Grange, and it sometimes seem completely different from the rest of the world; the rules civilised people are supposed to follow are bent according to the characters' motivations. As we will soon find out, the main protagonists' presence is so strong that they do not even need to be present to convey the impression that a happy ending is impossible.
The tone is melodramatic, but not overdone. As the two main protagonists make way for their children, we can catch glimpses of hope and happiness every now and then; in the end, it is not really a tragedy, but rather a mix of several genres, which makes the novel extraordinary. Given the author's provocative writing and the sensitive questions she deals with, I can however fully understand why the novel was controversial when it was first published.
Wuthering Heights is a classic everybody should read. It is rather different from other novels published at that time and deals with several interesting and modern questions. The characters can be perceived either as caricatures, or as extreme cases. Both interpretations are interesting and can add to the gothic atmosphere. Are you ready to go back to early 19th century Yorkshire?
_________________________________