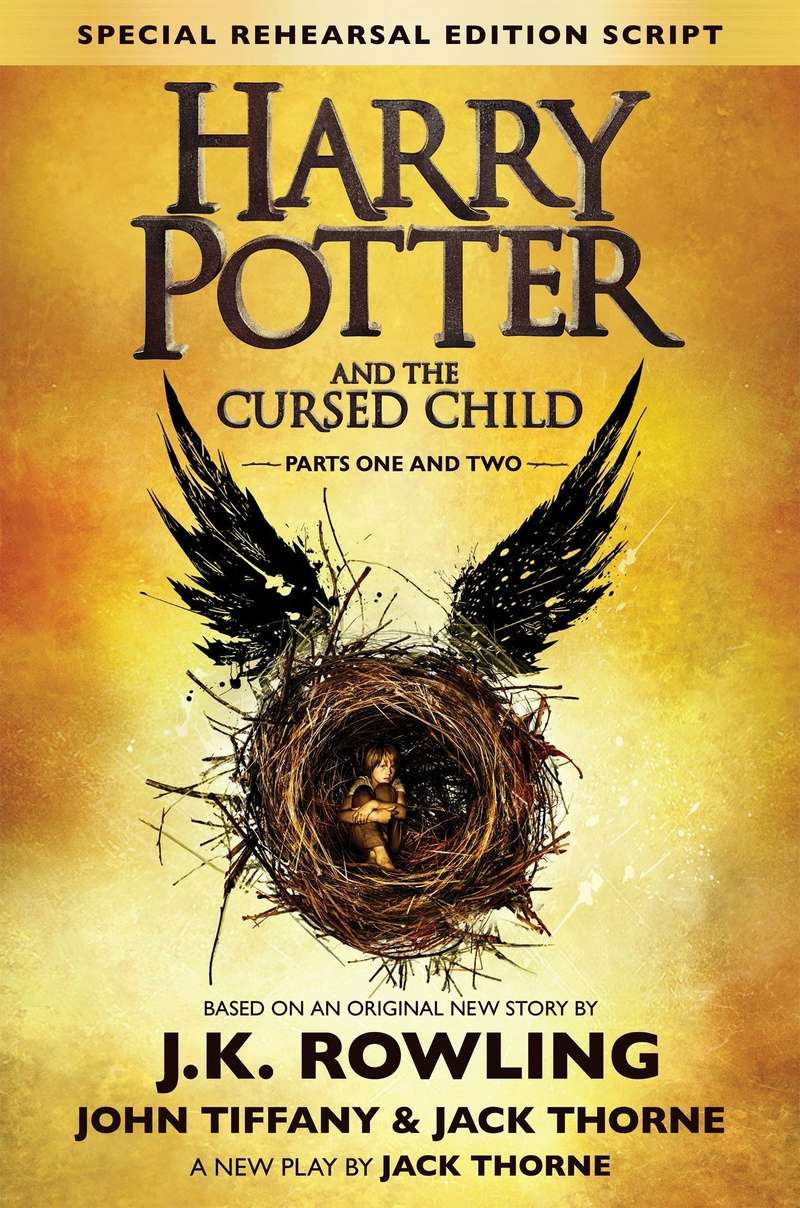 Title:

Harry Potter and the Cursed Child
S

eries

: Harry Potter #8 (script for the p

lay)
Author

:

Jack Thorne
Original story

: J.K. Rowling, John Tiffany, Ja

ck Thorne
Publisher:

Little Brown
Release date: 201

6
Pages:

343
*Harry, there is never a perfect answer in this messy emotinal world. Perfection is beyond the reach of humankind, beyond the reach of magic. In every shining moment of happiness is that drop of poison: the knowledge that pain will come again. Be

honest to those you love, show your pain. To suffer is as human as to breathe

.*
_________________________________
It was alwasy difficult being Harry Potter and it isn't much easier now that he is an

o

verworked employee of the Ministry of Magic, a husband and father of three school-age children.
When Harry grapples with a past that refuses to stay where it belongs, his youngest son Albus must struggle with the weight of a family legacy he never wanted. As past and present fuse ominously, both father and son learn the uncomfortable truth: sometimes, darkness comes from unexpectd

places.
_________________________________
*The stage is flooded with wizards and witches. They rattle and chatter like all true wizards and witches can

.*

Just as several hundreds of people across the world, I could not wait for the eighth Harry Potter story to be published. Imagine my dismay when I noticed it would be published on a Sunday (on which shops are closed
over here
) and that Monday was National Day (on which shops are closed too). Fortunately, some bookshops in main train stations and airports are open (as my colleagues nicely reminded me), so I managed to acquire my copy… and spent my afternoon reading. It brought me back to several years ago, when I was waiting impatiently to buy each of the books. Is it the same? Not exactly. Did I enjoy reading it? Definitely!
Harry Potter fans, unless they want to be disappointed, need to bear in mind that that this eighth story is different. It is not just another episode of the series. It is much more than this. Firstly, it is not a fantasy novel; it is the script of a play. Secondly, it is does not take place in the magical universe we are so familiar with; it occurs nineteen years and a few changes later. Finally, it is not only Harry's story, but much more Albus's (and Scorpion's).
With these few details in mind, let us proceed. Nineteen years after the battle of Hogwarts, much has changed, but the past is still lurking. As Harry and Ginny, Ron and Hermione and Draco send their children to Hogwarts, darks shadows come back. As it turns out, Albus (Harry and Ginny's youngest son) and Scorpion (Draco Malfoy's son) will play a major role in the future (or maybe the past?) of the wizarding world, which might include a confrontation to dark magic, family secrets, friendship and a time-turner.
Although the script was not written by J.K. Rowling herself, the original story it is based on was, and the spirit of the Harry Potter series is definitely present. We meet our favourite (and less favourite) characters again in the universe we know. Some of the readers might be slightly disconcerted at first as there are none of the detailed descriptions they were used to – it is a play, remember – but do we actually need them to enjoy the story? Are we not familiar enough with Harry's world to just… imagine – especially when the past surfaces at every turn? The dialogues are lively, expressive and pleasant to read and the stage directions detailed enough to take us straight to the wizarding world – with just that touch of humour which made the series so special in the first place.
The plot itself is enthralling. In retrospect, the first few scenes might seem a little slow and contain rather a lot of narrative ellipses, but I personally enjoyed it as it gave me time to grow accustomated to reading a Harry Potter story in play format. Quickly, adventures start for Albus and Scorpion and the events soon become uncontrollable. It is a story about courage, families, understanding and love; about how it is important to live in the present rather than in the past; about accepting one's past mistakes and weaknesses; about trust and friendship.
The characters are all recognisable, and what a pleasure to find them older, but not completely changed. Harry is still the Boy-Who-Lived in many ways, but also a father who is wondering how to fulfil his role, especially with his youngest son. Hermione, Ron and Harry are responsible and grown up, but still a trio sharing a great friendship. Draco Malfoy is striving to be better, but still followed by his dark past… It is as if they had been waiting for us, readers, all those years. >spoiler<
And being able to see Severus Snape again is probably the best surprise this book gave me!
>spoiler end
<
Harry Potter and the Cursed Child is a wonderful way to go back to the wizarding world. It is innovative, yet includes all the details that made the success of J.K. Rowling's series in the first place. My dream? To be able to see the plays, of course!
_________________________________

No need for time turners to enjoy once again the wizarding world… The play is innovative yet includes all the details that made Harry Potter a success: an enthralling plot, touches of humour, lively and expressive style and, of course, our beloved characters… as well as a few new ones!